Come with us down the river! We are raft renting company seated in Cesky Krumlov. We specialise on individuals and groups and provide complete service including transport, accommodation and other outdoor activities.We offer a variety of day trips including complete service. We pick you up at your hotel and take you where your chosen trip starts. At the end you are picked up and taken back to accomodation. If you arrive by car, you can park for free in our camp. All the necessary equipment is also free.
Rafting is our passion and we know how to do the business. We provide you boats according to your wish and also transport from your accomodation and back. We will be pleased to give you information about the river, about ideal trips and all the conditions.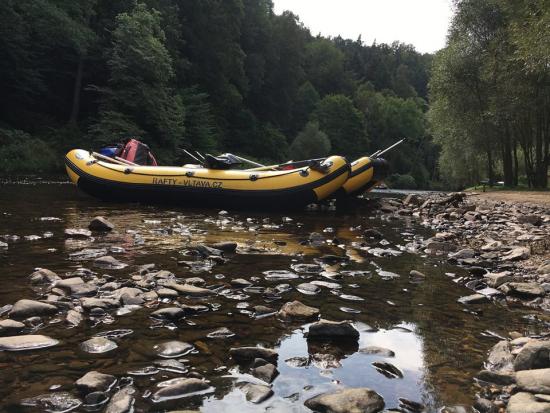 Best prices and best service
Does not matter if you are just a family or a group of 100 person for a three day trip. For us quality of service is the core. We attached importance to the price and best quality in the same time. The best reward is a happy customer. We provide parking in our campside and also transport.

We understand, you might not know the Vltava river yet. Do not worry, because we do. We are always ready to help you find the best place to start and finish your journey and also to give you all necessary information about suitable boats, about lenght and levels of a river parts and parking or accommodation.

Wide range of boats, rafts and equipment
Would you like to rent a canoe or rather a raft for 8 person? We have it all. We renew our inventory periodically and we are ready to help you with suitable type of boat. Renting of all necessary equipment we provide for free – indluding price of boat rent.

South Bohemia is a beautiful place. Accept our invitation and stay little longer. We offer one day or more day trips. We can make tailored trip according your requirement.

Hire your own raft or boat instructor
Which way? Take off your fear and reward yourself with your own instructor. You will get the basics of rafting.

We operate on river part from Vyssi Brod to Borsov n/Vlt. Wherever you will want to start or finish, you can. We can advice you best place, but we are not going to force you to start on exat place.